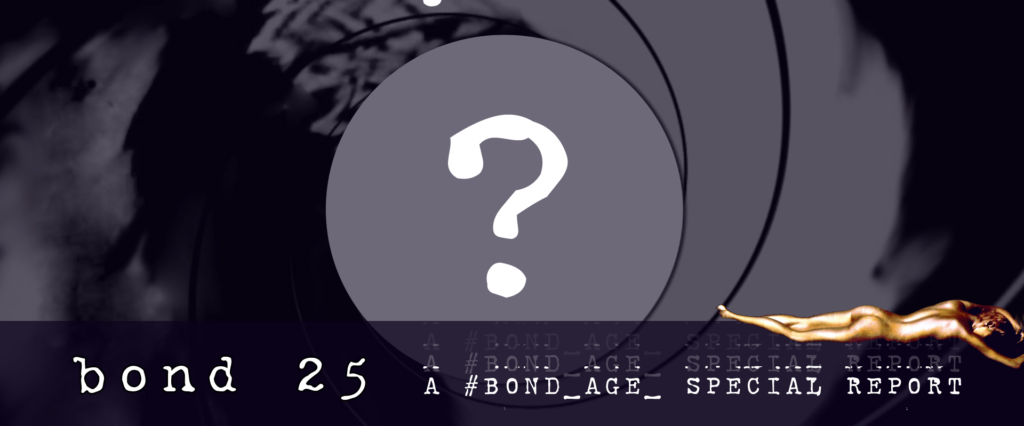 Bond 25 News and Rumblings: Christopher Nolan's Syncopy to Produce?
We've waited months for any shred of information about the next entry in the Bond series, and this week we've been hit with a cold, dead WTF fish. A WTF fish wakes us from our stupor. Initially the impact feels refreshing. News! News! And then once the thrilling sting dissipates, the curious stench of the cold, dead partially decomposed WTF fish remains.
The news broke this week via the @Bond25Film twitter account that IMDb had listed "Bond 25" under the "In development" projects at Syncopy, Christopher Nolan's production company. After the Interwebs verified this news with IMDb, they jumped to the conclusion that Nolan had been slated to direct the next Bond film. Let's not plan on James Bond carrying any shark-repellant Bat Spray in his attache case just yet.
Just because Nolan's a talented director doesn't make him fit to direct a Bond film. He's admitted he crafted his Batman after James Bond, but Bond demands a lighter touch and a measure or tease of sexuality along with these routine action beats. This is not Christopher Nolan territory. And quite frankly that wasn't Sam Mendes territory either. Phil Nobile, Jr. threatened to break out Le Chiffre's testicle whip on anyone that suggested another "name" director for James Bond, and I'm firmly on board with this proposition. Considering Eon's history as an isolated creative entity, Syncopy's collaboration seems patently absurd. It also doesn't mean Nolan will direct; it's more likely that Eon (helmed by Barbara Broccoli and Michael G. Wilson) has merely shed some production duties onto Syncopy. There's likely a legitimate business-related reason for this coupling.

Bond 25's Distribution Deal Not Yet Done
Nolan and Syncopy's involvement in Bond 25 makes more sense when paired with a few other interesting developments. First, the distribution rights for the film remain up in the air. Family-held Eon and MGM control the fate of the franchise but do not distribute the films. Sony Pictures Entertainment has released all of the Craig-era Bond movies, but their contract expired after Spectre. Five studios, including Sony, have made their best pitch to land the rights to distribute James Bond. The others are Warner Bros., Universal, 20th Century Fox, and the little upstart that could, Annapurna. Though Eon retains almost complete creative control, the distributing studio — as the Daddy Warbucks of this operation — will have some creative input. The selection or approval of a director, perhaps.
Bond 25 Scores a Director?
Rumors broke this week that Eon has been meeting with potential Bond 25 directors and the name Paul McGuigan sits high on their list. McGuigan has a curious big-sceen resume consisting of Wicker Park, Gangster No. 1, Lucky Number Slevin and Victor Frankenstein. Let's not dwell on the latter two titles for long as they only serve to further dampen potential enthusiasm. McGuigan has shown more consistent talent on the small screen, having directed the Sherlock pilot for the BBC and two episodes of Luke Cage. More importantly McGuigan helmed Eon Productions' upcoming release Film Stars Don't Die In Liverpool, which puts his foot firmly in the door to Babs' office.
McGuigan's precisely the kind of director that has excelled in the Bond universe. Short on tentpoles, long on small successes, adept at ego-less shepherding rather than innovating. See Martin Campbell, John Glen, Lewis Gilbert. If there's a specific creative direction that would most benefit Bond in 2017 and beyond, it's a step back from Batman and a step closer to Sherlock Holmes. Therefore, If Eon hopes to sell McGuigan to a potential distribution partner, Christopher Nolan and Syncopy become the insurance policy on their undervalued commodity.
Another name I heard mentioned in idle chatter is Rachel Tallalay. The Tank Girl director helmed an excellent episode of Sherlock ("The Six Thatchers") and boasts Dr. Who, The Flash and Supergirl credits. I normally leave such musings on the message boards, but selecting a clearly qualified female director for a James Bond film would create immediate and generous buzz for the already high-profile project.
Sidenote: Here's a crazy idea. And I'm just spitballing here… but let's call Martin Campbell. Just to see what if he can fit Bond in around his fishing schedule.
It's no secret that Christopher Nolan has long coveted a share of the Bond franchise. Syncopy's willing involvement should probably come as no surprise, yet Eon's eagerness to share their property most certainly does. Immediately I thought that Michael G. Wilson was finally taking a step back from his duties to focus on new and inventive Bond-movie cameos. The 75-year-old producer had mentioned ceding more control to Barbara, and maybe Barbara was in turn trying to find a partner to assist her now and in the near future.

Will Craigers return for Bond 25?
This all comes, of course, in the void of any definitive word about the face of the franchise, Daniel Craig. I've been saying this since the release of Spectre: I think Craig will come back for one more film. We'll never know what's actually on Craig's mind because he loves lobbing holy hand grenades of misdirection during interviews. If he hasn't yet made up his mind, we should also consider that any one (or all) of these behind-the-scenes machinations aim to keep Craigers in a tuxedo for a fitting final entry in the Daniel Craig-era. If he isn't returning, well… let's brace ourselves for the impact of yet another WTF fish in the near future.